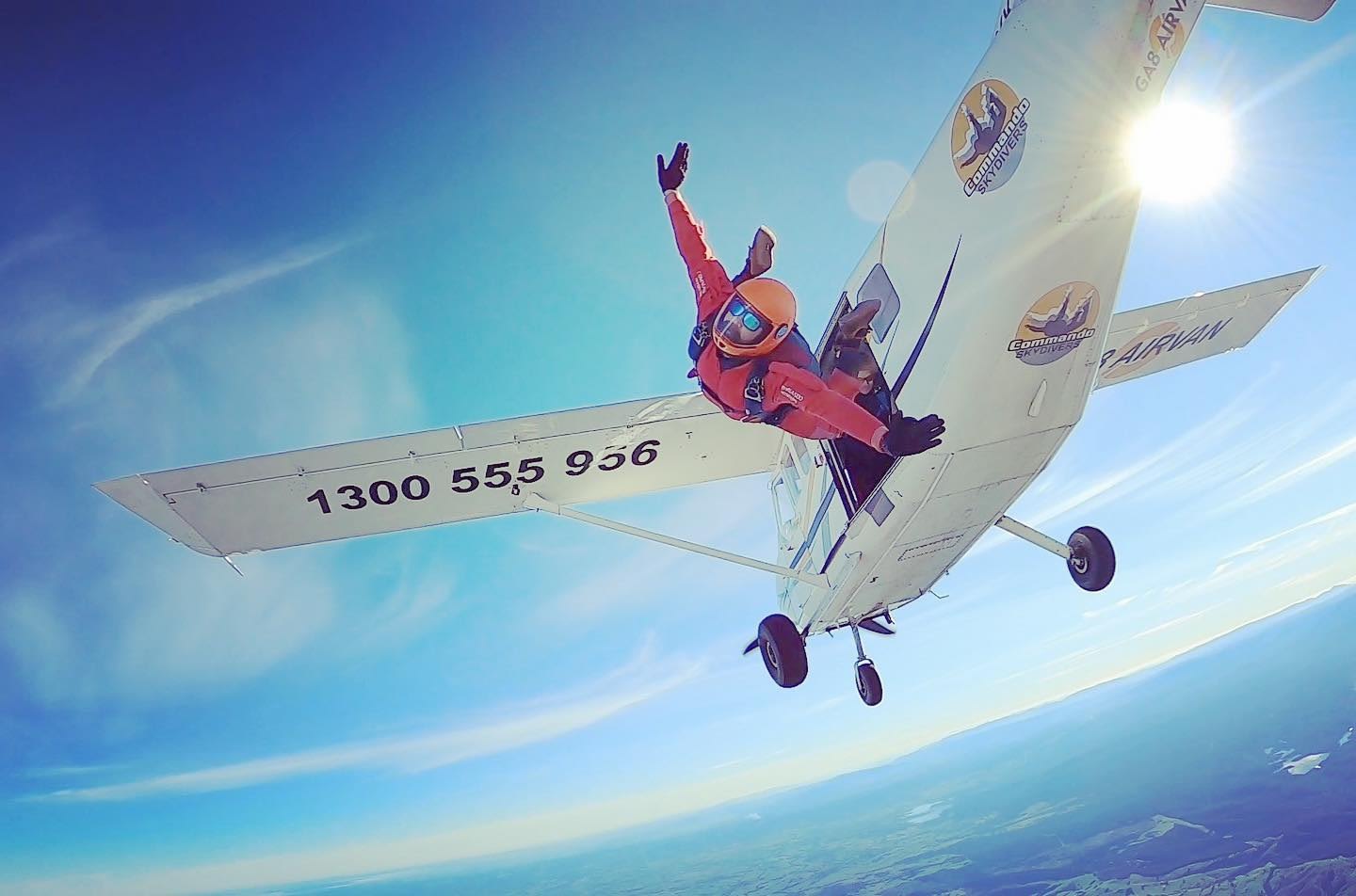 Skydiving
Gift Certificates Available
Book Now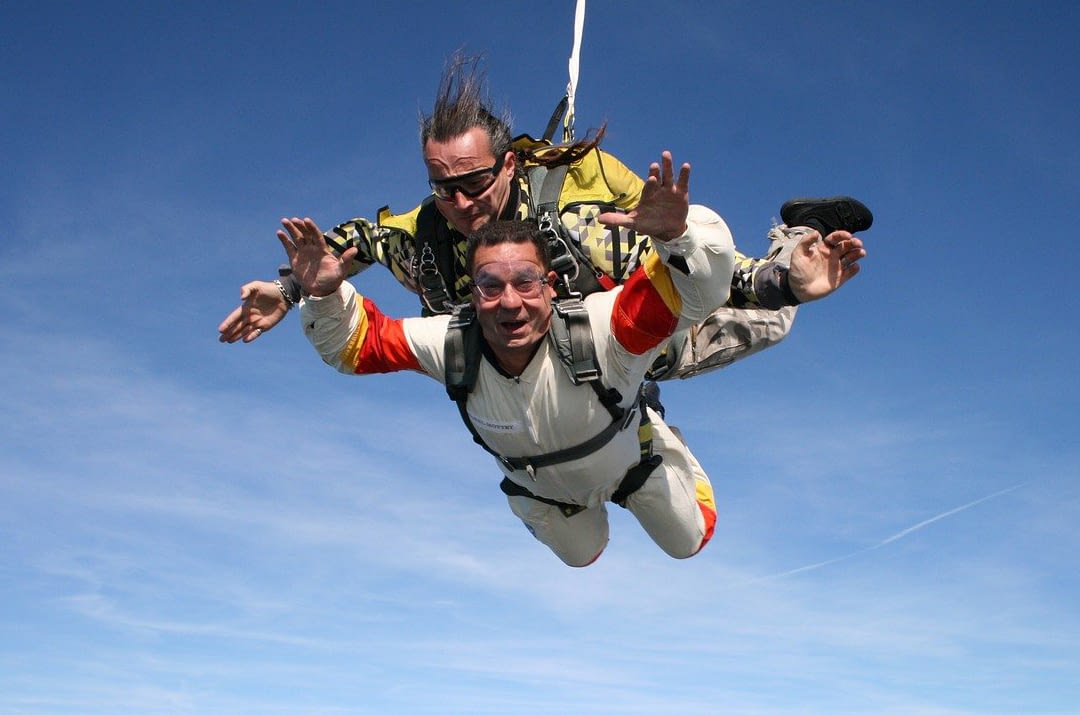 Skydiving
Feel The Thrill Of Free Flight
Book now
Skydiving
Enjoy The Unforgettable Emotions
Book now
What Are You Looking To Do?
TANDEM SKYDIVING
From $359
SOLO SKYDIVE FIRST JUMP $395
Tick off an item on your bucket list with Commando Skydivers life-changing tandem skydiving in Latrobe Valley. A Free Fall to remember for life! Offering stellar 360 degree views of Latrobe Valley and its bay area city scapes from 14,000 ft in the air. Thrill….doesn't get better than this.
Providing a safe, expert tandem and other skydive experiences in Melbourne, Victoria, Commando Skydivers are a crew of highly experienced and dedicated skydivers, ready to give you the ultimate adrenaline rush of your life within safety bounds. Trust our legacy of more than 50 years as Victoria's longest continuously operating skydiving club to take the "Ultimate Leap" into a Free Fall.
Skydiving is an awesome sport that most people can participate in & Commando Skydivers helps you experience skydiving in Melbourne, Victoria regions. Here are few rules to follow when skydiving in Melbourne to keep everyone safe:
– You must be 16 years or older to skydive
– If you are under 18 you must have a parent or guardian's consent in writing
– You must be no more than 12 weeks pregnant for skydiving activity
– If you have injuries or medical conditions we may need your doctors approval
Call Us on 1300 555 956 to book the most experiential skydiving in Melbourne
Let us share this amazing experience with you !
No matter what you're looking for – a tandem skydive experience or a learning to skydive on your own we have just the package for you.
We offer skydives up to 14,000ft giving you up to 60 seconds of freefall...
Commando Skydivers was established in 1961 and is Victoria's longest continuous operating skydiving club. During that time our club has taught thousands of skydivers, performed tens of thousands of parachute drops and even trained a number of Australian and world champions.
Book your skydive with Commando Skydivers
Comments From Our Clients
"So proud of you Kenny Grove you are really amazing and the Best Brother in the world.Its not every day or for most of us not ever people sky dive. Thank you Paul Algie and all the team at Commando sky diving Tooradin for having enough trust in Ken and his ability to give him the opportunity to full fill his dream. Nothing was too much trouble and the amazing team went out of their way to obtain a special harness so Ken could jump. They definitely see the ability not the disability. Great job guys".
"Had the best time at commando Skydivers very professional & safety conscious well looked after".
Thanks guys so much for the awesome experience!!! Ossie was so much fun & he made it an even better! It was so nice to feel as young as everyone else there! 
I really loved it & I have been telling everyone I know about you guys. 
Thanks again you made turning 60 an absolute blast!!! ?
️
Experience the Best Skydive in Melbourne, Victoria
There are plenty of reasons why skydive in Melbourne is popular among people. For some, it is an excuse to bring some thrill and excitement to their lives. While some people see sky diving as a form of therapy or adventure of a lifetime.
Show more…
Whatever your reason is, Commando Skydivers is here to help you make the most of your weekend and spend some quality time experiencing this adventurous sport. If you're a thrill-seeker who wants to try out sky diving at least once in your life, there is no better way to do this than by choosing our expert services.
The skydiving Melbourne price starts from $359 for beginners. We have a team of qualified and certified skydiving instructors backed with many years of professional experience. We have strict policies and protocols when it comes to ensuring your safety. We have been serving our clients in our skydiving club since 1961.
We are fully equipped with the best gear and equipment for a skydive in Melbourne. Our riggers perform a regular inspection and maintain the skydiving gear properly. We make it easier for our clients to find the right set of services that can cater to their specific needs by offering customised skydiving packages.
If this is the first time, you'll be doing skydiving, there is no need to worry. Our trained skydiving instructors will guide you step-by-step. They will be with you every step of the way to make feel more relaxed and in control of the process. You can opt for a tandem skydive or try out our solo jump packages as per your requirements. Even if you are planning a weekend skydiving trip with friends or family, we have got you covered.
Want to Know More About Our Packages?
Call us on 1300 555 956 and let us know how we can help you. One of our team members will get in touch with you for further discussion.
Explore Adventure Packages for Skydive in Victoria
Are you ready to enjoy the magnificent view of Australia's coasts? With a skydive in Victoria, you will love the thrill of jumping from 14,000 feet and flying your way down while witnessing the scenic beauty of Australia.
You'll be safely strapped to your instructors so there is no need to rush or panic. The assigned instructor will brief you on everything that needs to be done. We design tailored packages for Skydive in Vic by assessing the needs of our clients first. We pay extra attention to the safety levels and protocols so that you can try your hand at skydiving with peace of mind.
Commando Skydivers has a team of passionate and enthusiastic skydivers who are always looking for an opportunity to make skydiving happen for people. We want our clients to become more confident than they were before choosing our skydiving services.
For us, skydive in Victoria is more than just a few minutes of rush and excitement. We believe that skydiving is good for our minds and makes us stronger and prepared for life.
You would not want to miss the stunning visual experience that skydiving has to offer.
Don't wait. Connect with us today and get ready for the once in a lifetime experience.
Show less